Use your mouse to pause or click on the images
Maui County Calendar of Events
Choose a day to view events
514
upcoming events in the database
Browse this
Week
or
Year
at a Glance
EVENT DESCRIPTION
[ Pageviews: 215 ]
Akaku Upstairs: Why, Why, Wailuku? Civic Center Redevelopment - 8/15/19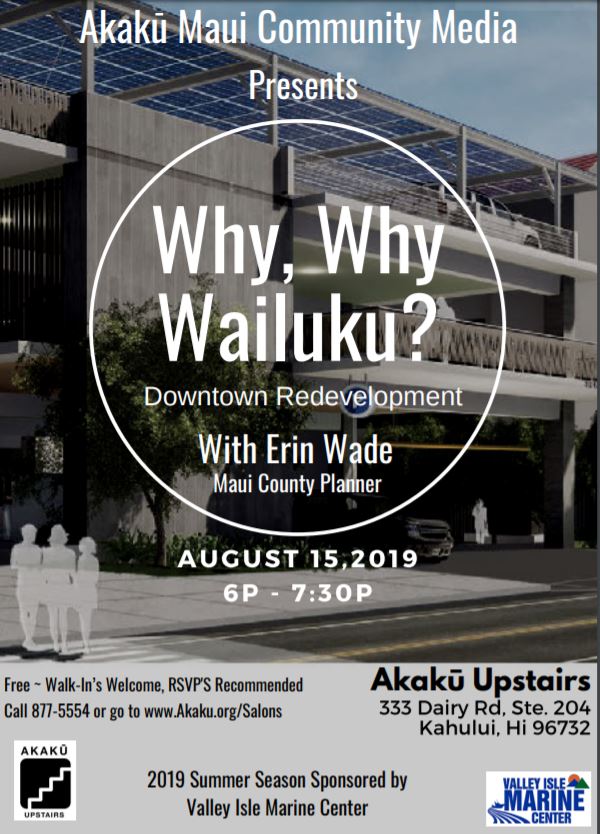 RSVP to: https://conta.cc/2HOptIJ
EVENT DETAILS
Date: Thursday, August 15th, 2019
Time: 6:00 pm to 7:30 pm
Cost: Free!
Categories: Classes / Seminars / Lectures, FREE, Radio / TV
EVENT LOCATION
Akaku Maui Community TV
333 Dairy Rd Ste 104
Kahului, HI USA 96732
Island Area: Central Maui
Email:
Website: www.akaku.org/
Location Details: Akaku empowers the community's voice through access to media. Akaku is a 501(c)3 nonprofit corporation that airs content created by the community for the community. Community members on Maui, Molokai, and Lanai are encouraged to submit programming to the station, create their own television shows, and have their voices heard by fellow community members.
EVENT CONTACT INFORMATION
Contact: Danny Collins
Phone: 8088715554
Email:
Website: www.akaku.org/salons